Shri Amarnathji Yatra-2010
Chairman of the Shri Amarnathji Shrine Board visits
Panjtarni & Baltal to review Yatra arrangements

Srinagar (Kashmir), June 3 - The Chairman of the Shri Amarnathji Shrine Board, Mr. N. N. Vohra, Governor Jammu & Kashmir, today visited Panjtarni and Baltal and took stock of the various infrastructural and logistical facilities being provided for the upcoming Shri Amarnathji Yatra-2010 to ensure a smooth and comfortable pilgrimage.
Today morning the Governor flew to Panjtarni where he held discussions with the sanitation experts, State Public Health Engineers, Engineers of the Shrine Board and others, the arrangements which were required to be established at this new Base Camp. He went around the Panjtarni Camp, which is still under fairly heavy snow and issued instructions to his Principal Secretary and Chief Executive Officer of the Shrine Board, Mr. Raj Kumar Goyal and all other concerned officers to timely ensure the required arrangements.
On way from Panjtarni to Baltal, the Governor undertook an aerial reconnaissance of the track to assess the status of snowmelt and the likely time required for making this route to the Holy Cave fully functional.
The Governor spent nearly two hours at the Baltal Base Camp. Accompanied by the CEO, Mr. Raj Kumar Goyal, Deputy Commissioner, Ganderbal, SSP, Ganderbal and other officials, he went around the Base Camp and extensively reviewed the arrangements, including toilet facilities, power supply, drinking water supply and sewage treatment facility. He took stock of the present status of the facilities at the Base Camp and those being positioned on the Baltal-Holy Cave route for the pilgrims.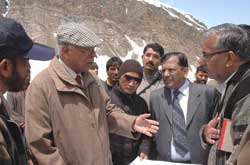 He held detailed discussions with the Deputy Commissioner and SSP Ganderbal and other officers of the District Administration for completing all the Yatra-related arrangements by 20th of this month for the smooth conduct of the pilgrimage. He laid special emphasis on the arrangements pertaining to sanitation, health, hygiene, drinking water and power supply. He also directed all concerned to ensure adequate arrangements for collection and disposal of solid waste on a continuing basis at all locations in the Yatra area to maintain cleanliness.
The Governor has been personally monitoring the status of the track clearance work and several other arrangements at the Camp locations. The Yatra this year will begin from Baltal and Pahalgam on 1st July and conclude on Raksha Bandhan on 24th August. The registration of the Yatris for the pilgrimage is scheduled to commence on 5th June.