Current Registration for Shri Amarnathji Yatra 2013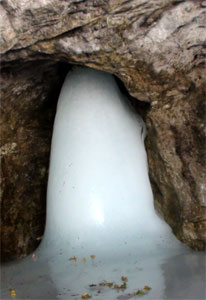 Srinagar, June 29 – In view of the significant number of unregistered pilgrims and pilgrims who have arrived ahead of their scheduled date of Shri Amarnathji Yatra 2013, the Divisional Administration Kashmir, in coordination with the Shri Amarnathji Shrine Board (SASB), J&K Bank, and Directorate of Tourism, Kashmir, have established Seven counters each at Pantha Chowk, Srinagar, and Tourist Reception Centre (TRC), Nowgam, Srinagar, to facilitate such Yatris to obtain registration before they can proceed to the Yatra Base Camps. This facility is in addition to the Current Registration arrangement available to Yatris at various locations in Jammu i.e. Vaishnavi Dham, Saraswati Dham, Jammu Haat and Ram Mandir.

All the Yatris are advised to obtain registration for the date on which they wish to undertake the Yatra beforehand to avoid unnecessary difficulties and inconvenience to themselves as well as the Administration.

The Yatris, in their own best interest, should cooperate with the Yatra Administration and should not reach Base Camps without first obtaining registration. In addition, they should reach the Base Camps only a day before they are scheduled to undertake the Yatra. If they have arrived without registration or ahead of their date of registration, they should obtain Current Registration from the counters established at Jammu and Srinagar.

Today, 6132 Yatris left Baltal and 4409 Yatris left Pahalgam for the Holy Shrine Cave.
The weather in the morning was cloudy and there were few spells of rain in the Yatra area. However, in the afternoon, the weather remained clear in most of the Yatra area. The Yatris were stopped for brief periods at the Access Control Gates at Chandanwari and Baltal when there were strong showers.