Additional Quota for
Shri Amarnath Yatra Registration released
Srinagar (Kashmir), June 01 - Shri Amarnathji Shrine Board has released additional quota for Shri Amarnath Yatra 2012 registration through Banks where the earlier allotted quota was exhausted.
Additional quota for on-line registration of Shri Amarnath Yatra 2012 through the website of Jammu and Kashmir Bank has also been made available.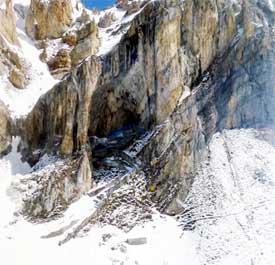 Recent view of Shri Amarnathji Cave Shrine
These decisions were taken in a meeting held at Raj Bhavan today evening under the chairmanship of Governor N. N. Vohra, Chairman of the Shrine Board to review the Registration status and all other arrangements being made for Shri Amarnathji Yatra 2012.
Giving further details, the CEO Shri Amarnathji Shrine Board, N K Choudhary disclosed that while more than 2.55 lakh Yatris had registered up to-date for the coming Shri Amarnathji Yatra 2012 and the quota for registration through on-line service as well as at 47 Bank Branches of J&K Bank had exhausted.
Desirous pilgrims can now register themselves at these Bank Branches or on-line. The CEO stated that details of Bank Branches where registration will recommence are being made available on the website of the Shri Amarnathji Shrine Board.