Shri Amarnathji Yatra Pooja at Chandanwari
Srinagar (Kashmir), June 4 - To invoke the blessings of Shri Amarnathji for the smooth conduct of ensuing Shri Amarnathji Yatra 2012 to the Holy Cave Shrine, the Chief Executive Officer of the Shri Amarnathji Shrine Board, today performed Pooja on the auspicious occasion of Jyesht Purnima at Chandanwari, on the traditional Pahalgam-Holy Cave track, amidst chanting of Vedic Mantras.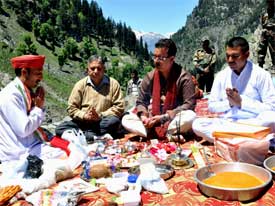 Interacting with the media persons after performing the Pooja, the CEO said that, in view of the significant disruption of work caused by continuing inclement weather, additional manpower has been deployed for clearance of tracks of snows and putting in place all other Yatra-related arrangements at the Base Camps, Camps enroute and at the Holy Cave area well before the commencement of the Shri Amarnathji Yatra 2012 on 25th June. Large accumulation of snows on the tracks and at the various Camp locations, alongside continuing bad weather, had seriously hampered the pace of clearance of tracks and positioning other arrangements on ground. It is hoped that, with the deployment of additional manpower, the required arrangements will be timely in place. For this purpose, the engineers and other staff of the Board, Government Departments and all the concerned agencies are working continuously. Later, the CEO reviewed the work at Chandanwari and Nunwan Base Camp.